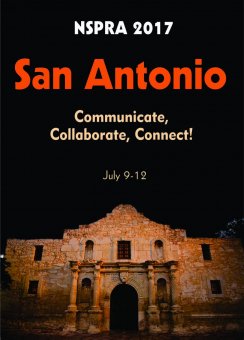 The NSPRA National Seminar is the largest gathering of school communication professionals in North America, bringing together outstanding experts and practitioners in communication and leadership for four days of collaboration and learning.
School public relations professionals and educational leaders must demonstrate accountability and student achievement in local schools like never before. You need public engagement. And, you need clear communication to get your messages heard and strengthen the connection between your schools and your community.
At the Seminar, you'll connect with others who are using effective communication to build bridges that ensure education success for all students. You'll learn innovative and strategic ways to deliver key messages about your schools, foster open and honest dialogue with stakeholders, and develop dynamic internal and external communication programs. You'll meet some of North America's leading communication experts and school PR pros who will help you build trust, understanding, support, and respect for your schools.
With numerous skill-building sessions rich in resources and ideas, the NSPRA Seminar provides a laser focus on what's working in cutting-edge communication programs and how to respond to today's critical education issues. Communication issues you deal with daily, such as accountability, transparency, funding, rebuilding trust and public support, student performance, communication technology, media relations, handling crises, branding and marketing, public engagement, social media, customer service, diversity and tolerance, education advocacy and much, much more.
Whether you are a full-time public relations/communications professional, a superintendent, or an educator with communication responsibilities, the NSPRA Seminar will inspire you to expand and improve the communication program in your district and provide you with the ideas, tools and resources to get started.
Here's what participants say:
The NSPRA Seminar provides a full spectrum of learning opportunities for school PR professionals, from community involvement and diversity outreach to marketing, social media, crisis communications, and strategic advisor courses. Combined with the chance to network with expert colleagues from across the continent, the Seminar brings each participant new energy, tools, mentors, and strategies to navigate the challenges of communicating in an era of education change. - Leslie Robinette, APR, Gladstone Schools, Ore.
The NSPRA Seminar is the only place where you can learn job specific tips and tools for our profession. It is also a wonderful opportunity to meet other school system communication professionals in order to build a network of friends who you can turn to for advice during tough times. -- Meredith Mendez, Tammany Parish Public School System, La.
You won't find a better opportunity to network with "your people" - other school communicators who are often dealing with, or have dealt with, the same issues you're facing in your own district.
- Casey White-Zollman, Intermountain Education Service District, Ore.
The National Seminar offers something for everyone looking to improve school communications - solid entry level skill development, information about how to take advantage of the latest technology tools, strategic guidance on the year ahead and inspiration to reinvigorate your professional passion. - Trinette Marquis-Hobbs, APR, Syntric Communications, Calif.
Imagine being in a large room with 600 people who know how totally impossible your job is, and yet are as relentlessly cheerful as you are! - Vicki Presser, Scarsdale Public Schools, N.Y.
Each year I come away from the NSPRA Seminar with a renewed passion for school public relations. - Alison Benson, Sioux City (Iowa) Community School District
The opportunity to learn from others as well as contribute to the dialogue on programs we have was invaluable. I plan to join NSPRA as I can see a tremendous value to having access to NSPRA's resources. - Barbara Keyani, Santa Barbara (Calif.) Unified School District
Going to the NSPRA Seminar every summer is one of the primary reasons I still love my job. Getting my annual shot of inspiration, advice and support refreshes my attitude every year.
Source: www.nspra.org
Share this Post