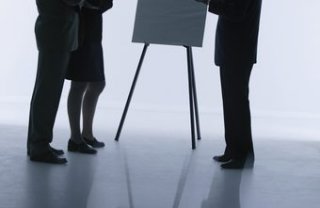 In 2008, more than 50, 000 public relations boutiques were in the United States, according to U.S. Department of Labor statistics.
Comstock/Comstock/Getty Images
A PR boutique firm, also known as a public relations boutique, is a business or agency that offers media outreach, media planning, marketing or special communications services for all types of businesses, including larger corporations with their own public relations or communications teams. Public relations boutiques specialize in raising the overall awareness of a brand, product or image of a company or person. They determine a strategy that will best publicize the product that will drive traffic and boost sales, according to the website PRToolKit.
PR Boutiques Come In All Sizes
Most PR boutiques are small- to medium-sized businesses that specialize in outreach to companies in specific industries, according to the Public Relations Society of America website. However, large PR boutique firms exist such as Edelman, APCO and Ruder Finn, which do research, marketing and can play a role in a company's overall marketing strategy and public perception. Edelman, for instance, has played a role in developing Nine Live's Cat Food's Morris the Cat character, promoted KFC's Colonel Sanders and is responsible for the dolphin-safe labels on Starkist's tuna cans. Ruder Finn has done public relations and marketing work with VAIO and TiVo.
Role
Public relations boutiques are hired by businesses to create or enhance advertising and the image and reputation of the company. PR boutiques will build a campaign and send out press releases that will target reporters and bloggers in radio, TV, Internet, newspapers and magazines. In addition, the public relations team will arrange interviews with executives and clarify a businesses view on issues to special interest groups. PR teams also handle controversies that are occurring within or about a company and restore confidence to the organization and its employees. This is called crisis management. In addition, many public relations boutiques also specialize in building social media campaigns, including video productions, according to the U.S. Department of Labor Statistics.
Jobs
Employment in public relations and also advertising is expected to grow 8 percent from 2008 to 2018, according to the U.S. Department of Labor Statistics. Because the public relations industry is dependent on advertising, the industry is expected to grow as the economy recovers from the recession and consumer confidence increases. Those who want to work in public relations need to attain a bachelor degree. It is often easier to get a job at a public relations boutique or agency than a corporation where the degree of responsibility is often much higher and combined with business development and internal communication, according to the Public Relations Society of America.
Fees
PR boutiques charge fees for their services. Depending on what type of services the company buys, the fee varies. According to the website O'Dwyer's, public relations boutique firms have been increasing their fees since 2009. Depending on the size of the firm a company chooses to work with, they will find different expertise, services and fees. A PR firm can charge anywhere from $75 an hour to $200 an hour, according to PowerHomeBiz.com.
Source: smallbusiness.chron.com
Share this Post