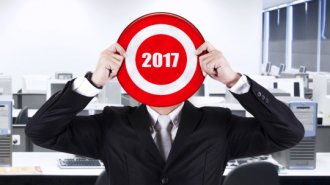 Now that January is upon us, it is an ideal time to reflect back on the past year and look to 2017.
The public relations industry saw its importance elevated in 2016 due to a number of high-profile corporate missteps. Coupled with a highly contentious presidential election, the American people were bombarded with messaging through a variety of communications channels this past year—almost to the point of exhaustion.
There are a variety of lessons 2016 taught us but one thing is inarguable: The PR industry is primed for significant growth. Here are five PR trends that will help shape our work as PR pros in 2017:
Journalists Will Be More Diligent Than Ever
If there is one lesson we should all take away from this past year, it's that journalists will be more diligent when it comes to the facts—now more than ever. Some of the biggest news outlets in the United States were caught completely off guard in 2016 by major corporate and political surprises. There is no one answer as to why this happened. Part of it was hyped-up figures disguised as facts. Another cause was the enormous propagation of fake news.
There is no better example than the downfall of Theranos, the Palo Alto-based blood-testing company. The Wall Street Journal's investigative piece on the company, published at the end of 2015, pulled back the curtain on what many in the business, health, and technology trades thought was going to be a jewel of Silicon Valley.
In reality, the emperor had no clothes all along. The Journal's article triggered a domino effect of follow-up articles, lawsuits and devaluations. Many reporters have publicly admitted since the downfall that their coverage of Theranos should have asked deeper questions about the company's technologies. Given how stories like these dominated the media landscape this year, editors are already instructing their reporters to look more closely at the facts and what public relations professionals send.
Third-Party Research Will Be Critical to Credentialing Pitches
Many in our industry understand that third-party research or studies from a university, think-tank or non-profit entity can boost the chances a pitch will be successful. In the same vein as the previous trend, media outlets are much warier of information they receive now—especially if it is from a practitioner, company or organization with which they are not familiar. That is why boosting pitches with third-party information from recognizable sources will play an increasingly critical role in 2017. Furthermore, contacting third-party sources who might be willing to participate in the story will be even more beneficial.
Reputation Management Matters More
As the extent of PR responsibilities expands further, reputation management will take its place firmly on that list. From media coverage to social media to online reviews, businesses, organizations and individuals will rely on communicators to protect and enhance their reputation. In light of the recent study by Dr. Jonathan Albright of Elon University, there is significant concern about the destruction of reputations through fake news sources. Add in the recent explosion of online rating websites and the need for public relations professionals to actively work to protect brands is even more apparent. There is little doubt this phenomenon will continue to be a growing challenge. It cannot be solved with one-click algorithms from "IT firms" who send out generic responses to complaints. Rather, this new reality requires thoughtful consideration from communications professionals.
Live Video Continues to Grow
As our society becomes more and more visual, video has been a top trend for a few years. It's no surprise given live video's success, especially on social media. A recent report from Cisco predicted that 75% of the world's mobile traffic will be video by 2020. Even if this estimate is overly ambitious, live video is racking up billions of views on Facebook, Periscope and other platforms. Instagram recently announced it's adding live video too. Live video exploded in 2016 and will continue to dominate conversations next year.
Influencers Become Contributors
Similar to live video, this trend is one that has gained momentum in 2016. The conversation about influencer marketing will evolve in 2017 as more organizations and PR agencies leverage influencers as ongoing contributors. Finding authentic advocates who actually connect with their followers and your target audience is the new guide. Celebrities and influencers just looking for a check won't be a priority for most companies. The much-reported backlash against influencer marketing is more about its evolution and why in 2017, authentic voices will take the spotlight and deliver results for brands.
These trends will have a significant impact on PR pros throughout 2017. Are there other factors in play as well? Of course, but there's simply not space to list them all. For example, social media is still a juggernaut of a communications channel. Identifying the best platform for you or your clients is critical. Measurement also remains a challenge and will be a priority for both agencies and in-house PR departments.
Now that 2017 has arrived, consider the lessons of this past year. Communications professionals across the world saw many unexpected turns and twists, which have resulted in new challenges, but new opportunities as well.
Mike C. Gray, APR is a partner and co-founder of Commonwealth Partnerships, a PR and communications firm that specializes in the real estate, A/E/C, and senior living sectors. With over 10 years of experience in strategic communications, Mike has worked with a variety of developers, home builders, engineers, senior living providers and others on public relations, content marketing, social media, reputation management and video campaigns. Mike can be contacted at mgray@cpgroupllc.com.
thinking reaction meme
thinking riddles
thinking really hard
thinking reeds
thinking rationally meaning
thinking synonym
thinking statue
thinking skills
thinking strategies
thinking styles
thinking stock photo
thinking strategically
thinking storm
thinking traps
thinking tree
thinking tree spirits
thinking too much
thinking thesaurus
thinking thoughts and feeling feelings
thinking traps worksheet
thinking thursday
thinking up
thinking upstream
thinking under the influence
thinking up synonym
thinking upstream nursing
thinking u can live without me lyrics
thinking up a master plan
thinking up a song about coraline
thinking vs feeling
thinking vs feeling mbti
thinking vs feeling personality
thinking verb synonym
thinking verbs
thinking vs feeling examples
thinking vs feeling test
thinking voice
thinking with type
thinking with mathematical models answers
thinking with portals
thinking with type pdf
thinking with your eyes
thinking with mathematical models
thinking woman
thinking words
thinking you could live without me lyrics
thinking you are better than others
thinking you have a disease
thinking you're smarter than you are
thinking you're better than others
thinking you could live
thinking you know everything
thinking you are smarter than you are
thinking zing
thinking zebras meaning
thinking zone
thinking zoozoo
thinking zone czesne
thinking zico
thinking zone school
thinking zubi lyrics
thinking about you dustin lynch
thinking after a stroke
thinking after reading
thinking after concussion
thinking after wine
thinking after meditation
thinking after headache
thinking after failure
thinking of the afterlife
thinking against the grain
thinking against oneself
thinking against the current
thinking against the current lyrics
thinking against humanity
thinking against the grain meaning
thinking against
thinking against the box
thinking among
among thinking skills analysis means
critical thinking among students
critical thinking among teachers and students
critical thinking among students pdf
thinking noodles among us
critical thinking among college and graduate students
creative thinking among students
thinking around corners
thinking around meaning
thinking around corners podcast
thinking around the box
thinking around corners meaning
thinking around the same lines
thinking around definition
thinking around the topic means
thinking as a hobby
thinking as a designer is all about
thinking as a hobby summary
thinking as a hobby pdf
thinking as a science
thinking as computation
thinking as an adjective
thinking as a designer is all about quizlet
thinking at the top of my head
thinking off the top of my head
why do i think so much in my head
what part of your brain is at the top of your head
on top your head
thinking at the margin example
thinking at the margins means deciding about
thinking at the margin economics examples
thinking at the margin meaning
thinking at the margin involves
thinking at the margin principle
thinking before you speak
thinking before you act
thinking before acting
thinking before you act is called
thinking before reacting
thinking before acting word
thinking before you speak word
thinking before you speak quotes
thinking behind constitutional convention
thinking behind synonym
thinking behind an action
thinking behind the doing
thinking behind it
thinking behind transformational leadership
thinking behind physics
thinking behind architecture
thinking others are beneath you
thinking between the lines
thinking between the lines meaning
thinking between the posts
thinking between deleuze and merleau-ponty
thinking between
between thinking and feeling
absurd thinking between art and design
thinking difference between man and woman
thinking beyond borders
thinking beyond the text
thinking beyond the text questions
thinking beyond action
thinking beyond yourself
thinking beyond the box
thinking beyond the text activities
thinking beyond synonym
thinking but not doing
thinking but not acting
thinking but you
thinking but it
but i'm not thinking
but thinking makes it so
but thinking makes it so meaning
but thinking makes it so who said
thinking by walter d wintle
thinking by nf
thinking by analogy
thinking by design
thinking by first principles
thinking by danusha lameris
thinking by tim brown
thinking by walter d wintle explanation
contra thinking
Source: www.prnewsonline.com
Share this Post