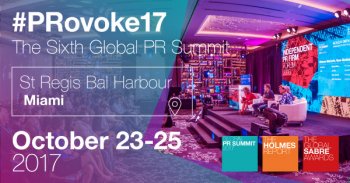 PRovoke17, our sixth Global Public Relations Summit, will take place once again at the St Regis Bal Harbour resort in Miami. And we are kicking off the event with a special weekend sale offering a 50% discount for early registration.
Our Independent PR Firm Forum—a half-day event designed to help PR agency principals anticipate the challenges and exploit the opportunities facing their businesses—will take place on Monday October 23.
The PRovoke17 conference itself—the global PR industry's most informative, insightful and provocative event—will take place on October 24 and 25.
Our 2016 speakers included Verizon Wireless CEO Ronan Dunne, Celebrity Cruises CEO Lisa Lutoff-Perlo, MBAs Across American CEO Casey Gerald, Columbia University professor and roboticist Hod Lipson, PBS Frontline executive producer Raney Aronson-Rath, and a host of authors, academics, CMOs and CCOs—a stellar lineup for a public relations conference.
This is an event that Weber Shandwick's global chief executive Andy Polansky says "stands out among industry events given the quality of the speakers, its broad range of topics covered and its international audience."
According to Kate Johns of Africa's Standard Bank, the Global Summit is "thought provoking and paradigm-shifting."
M Booth chief executive Dale Bornstein adds: "There hasn't been a year yet when I haven't been inspired by something I heard here. Some of those insights have contributed profoundly to the evolution and success of our agency and our business."
PRovoke16
PRovoke16 took place on October 25-28. Partners for the 2016 edition included top 15 firms Edelman, Weber Shandwick, FleishmanHillard, Ketchum, Burson-Marsteller, MSLGroup, Hill+Knowlton Strategies, Ogilvy PR, Golin, Havas PR, and Cohn & Wolfe. They include PR agencies owned by each of the big five industry holding groups.
Other partners include a host of international leaders including Adfactors (India); Atrevia and Llorente & Cuenca (Spain and Latin America); Finn Partners, Global Strategy Group, M Booth (US); Strategic Public Relations Group (Hong Kong); and international agency WE Communications.
The Independent PR Firm Forum, an event for PR agency founders and principals that precedes the Summit proper, was once again be sponsored by thenetworkone and Davis & Gilbert.
green eggs
electric green jordan 6
green jumpsuit
green goblin spiderman
green lemon
green mask
izzy green
jenna leigh green
green grass
green ford
green cove springs
green chef login
dr green
hazel green eyes
green hell grappling hook
pat green
green acres nursery
canning green beans
green dot register
red and green make what color
green onions song
green sand beach
green leaves
green bay butter churner
wal green
hotels green bay wi
green jasper
billie eilish green hair
bella green
green dye minecraft
green air force 1
darrell green
green meaning
rolling green
lime green nails
the green door
green planet
green beans with bacon
laci green
green tree relief
emerald green nails
green spider
hazel green funeral home
green roads cbd
forest green dress
keith green
green jeans
green tip ammo
green smoothie recipe
green gorilla
grilled green tomatoes
green bay quarterback
green grapes
why is my pee green
green fluorite
moss green
green powerpuff girls
green gables
green hill zone
lowes bowling green ky
green urine
red orange yellow green blue purple pink brown black white gray
green elephant
green day albums
plain green loans
jordan 3 pine green
kenric green
grass green
Source: www.holmesreport.com
Share this Post