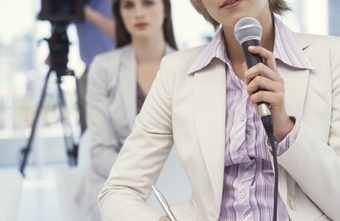 Your company's reputation requires knowledge of PR and publicity.
George Doyle/Stockbyte/Getty Images
Public relations is how a company interacts with the public, maintains ties to its community and gets important company information out to consumers and other interested parties. A small business needs to be adept in the practice of public relations and avoid looking to public relations practices only as means to react to a scandal. Practicing public relations means following basic principles that develop a positive reputation for your company in the marketplace.
Deceit
Never deceive the public with any information you release. A lie will be uncovered and the resulting fallout from deceit can be worse than the issue you were trying to cover up. Present the facts in a way that sheds as much positive light on your company as possible.
Contact Information
Every piece of public relations material that comes from your company should have contact information that includes a contact name, phone number, email address and mailing address. Give the public a chance to follow up on the information you released and the media a chance to present further information if they find the story interesting.
Target Information
Using a press release distribution service can cost money and make the process of getting information out to the public an expensive proposition. Prior to releasing information, target the audiences that you feel would have the greatest interest in your press release or marketing data.
Photographs
A well-written press release can help the public understand the point you are trying to make. Including a pertinent picture with your press release can give the public a visual image that will either add emphasis to your message, or clarify any potential confusion that your message may cause.
Media Relations
A public relations professional's best allies are journalists. Good media relations will not only get your press releases printed in spots where the public will see them, they can also result in personal interviews that will gain your company even more exposure.
Tools
Understand all of the public relations tools at your disposal and know how to use them. Press releases, speeches, personal interviews, seminars, web broadcasts and direct mail pieces are just some of the tools a public relations professional can use to reach the target audience.
Timing
Some public relations pieces can be scheduled for release well in advance. For example, the announcement of a new product is something a public relations professional can coordinate with the marketing group to get the timing right. But a public relations group should also be prepared to release important information on a moment's notice to coincide with a scandal or corporate emergency.
Availability
Reporters cannot confirm information in time to make print deadlines if you are not available at all times. Availability is critical for a public relations professional, and that means giving all of your contact information to the media and remaining on call at all times.
Stay Active
Your company should not wait for moments to present public relations materials. You should remain active in finding new ways to get information to the consumer or media. Make yourself available for speeches and seminars, and become an active member in professional and civic organizations.
Fact Checking
Never release information until it has been thoroughly checked for accuracy. Develop a fact-checking system for press releases and all public relations materials that will get the information to all pertinent parties to sign off on before it is made public.
ielts online coaching
hazwoper
special education teacher
successful entrepreneurs
rio declaration
professional certificate
individual entrepreneur
yoga teacher training
first generation entrepreneur
seba result 2022
helen parkhurst
arellano university lms
aha cpr
federal ministry of education
kitto crowdfunding
startengine fees
cre crowdfunding
real estate crowdfunding companies
mba in hr
start a crowdfunding business
teaching courses
tally classes near me
africa crowdfunding
best startups 2022
excel certification
online training courses
estate crowdfunding
sdg 8
cg board 10th result 2022
i am an entrepreneur
entrepreneur mentor
4 types of entrepreneurs
fastest growing startups
sdlce ku
asbestos awareness
international business management
entrepreneurial firm
startup hub
mdx crowdfund
online marketing courses
startup fundraising
bseb 10th result 2022
practice of entrepreneurship
learn digital marketing
independent entrepreneur
Source: smallbusiness.chron.com
Share this Post